Popovers are truly a delightful food; light, crisp, and hollow, just waiting to accommodate whatever fillings your heart desires! Here I've served them with a lazy pastry cream (no tempering or straining required here) and chewy half-candied clementines–both of which can be made ahead, by the way. None of the prep is difficult, but popovers and pastry cream both require some precision to come out well, so make sure you familiarize yourself with all the steps before beginning. These luxurious popovers with clementines and cream are the ultimate weekend brunch dish.
Popover recipe from Chowhound and pastry cream based on this one from Serious Eats.
Ingredients
Makes 12 popovers
For the pastry cream:
1/2 cup sugar
3 tbsp corn starch
1/4 tsp salt
2 tsp pure vanilla extract
4 large egg yolks
2 cups milk
2 tbsp cold unsalted butter
For the popovers:
3 tbsp butter
2 eggs, at room temperature
1 cup milk, at room temperature
1/2 tsp vanilla
1 tsp sugar
3/4 tsp salt
1 cup flour
For the clementines:
6 clementines or mandarin oranges
1 cup sugar
1 cup water
A few important notes before you begin:
First, on timing. Usually, pastry cream needs to chill for a couple of hours. In this recipe it doesn't matter. The ice bath is enough, and you can just chill it for however long is convenient after that. I find I have time to comfortably prepare either the cream or the clementines while the popovers are in the oven, but not both. Pick one to prep in advance, or prep both in advance to make your morning easy.
Second, on popover ingredients. I'm the first one to ignore qualifiers like "at room temperature", but here, it really does matter. As does oven temperature accuracy. For a light, hollow popover consider double-checking your oven temp with an oven thermometer. At the very least, preheat for a full 20 minutes before baking. And don't use your eggs and milk straight out of the fridge!
To prepare the clementines:
Lay a sheet of parchment paper on a cookie sheet or wire rack. Wash the clementines thinly sliced them, discarding the top and bottom most slices that are mostly peel. Place a cup of sugar and a cup of water in a large pan and heat on low until the sugar dissolves. Add the sliced clementines and increase the heat to med/med-high and bring the syrup to a boil. Boil the slices for 15 minutes and then use tongs to pull the slices out and lay them out on the prepared parchment.
To prepare the pastry cream:
Prepare an ice bath by filling a large bowl a little under halfway with ice and cold water. Set aside.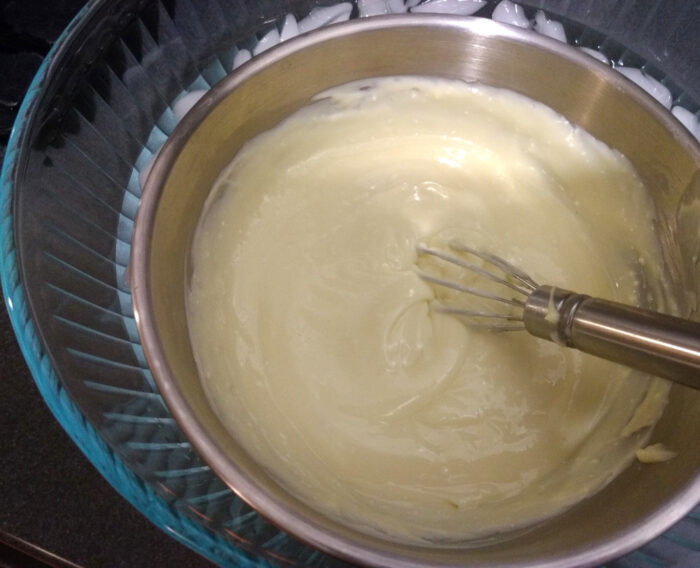 In a small, cold saucepan, whisk together the sugar, cornstarch, and salt. Add the egg yolks and vanilla and whisk until smooth. Add the milk and whisk again until smooth. Place the saucepan over medium-low heat (low if using gas), and whisk frequently as the mixture heats. Do not walk away. When it just begins to steam a little, turn the heat up to medium and whisk constantly until the mixture becomes thick and custard-y. At first it will seem nothing is happening, but suddenly it will thicken up quickly.
At this point, remove it from the heat, add the butter, and stir until it's disappeared. Transfer the mixture into a heat proof bowl and set in the ice bath. Whisk until cooled. Remove from the ice bath and press a piece of clingfilm down onto the surface of the cream to prevent a skin from forming. Chill in the fridge until ready to serve (up to 3 days).
To make the popovers:
Preheat oven to 425 F (218 C). Melt the butter and measure 1/2 tsp into each well of a 12 cup muffin tin (or a pair of 6-cup tins). Put the remaining tbsp of butter into a blender along with the other ingredients and blend until completely smooth (under a minute). Alternately, you can whisk the wet ingredients together in a medium bowl and then whisk in the dry ingredients until no lumps remain.
Place the muffin tin into the oven on the middle rack and leave until the butter is sizzling and starting to brown (2-3 minutes). Take it out and divide the batter evenly between all 12 cups. Put back in the oven and bake for 20 minutes. Reduce temperature to 350 F (177 C) and bake for about another 15 minutes until the popovers are a deep golden brown. Remove from oven, and pan, and serve popovers immediately with the clementines and pastry cream. I like to tear them in half, spoon the cream into the pockets, and top each half with a slice or two of citrus.