Brownies are the bomb, but they do tend to be an empty-calorie sort of bomb. Sometimes, that's perfectly fine, sure, but wouldn't it be nice to make them more often without sacrificing all of your dietary principles? Though not low-calorie, these wholesome brownies are almost entirely made from whole foods, which means the calories aren't empty at all, but rife with nutrients and fiber. In fact, the only added fat or sugar in the recipe is the modest handful of chocolate chips stirred into the batter before baking.
These brownies also happen to be dairy free and they work very well with oat flour, if you want them to be gluten free too. Despite all of this non-traditionalism, they're fudgy, sweet, deeply chocolatey, and easy to make. This small-batch recipe is here for you any time you need some chocolate in your life, and don't want to worry about accidentally eating 15 brownies by yourself.
Note: you will need a food processor.
Inspired by, but significantly modified from, this recipe at Paleo Gluten Free Eats.
Ingredients
Makes 6 brownies
100g raw sweet potato (around 1/2 a small potato)
60g pitted medjool dates (about 1/4 cup, packed)
6 tbsp natural almond butter (by "natural", I mean no added oil or sugar. peanut butter is also good here.)
1 egg
2 tsp vanilla extract
1/2 tsp almond extract
1/3 cup whole wheat or whole oat flour
1/3 cup unsweetened dutch cocoa
1/2 tsp baking powder
2 tbsp granulated erythritol (you can sub sugar if you prefer)
1/2 tsp instant coffee granules (optional)
1/4 tsp salt (reduce to a pinch or two if your nut butter is salted)
1/4 cup semi-sweet chocolate chips
Preheat the oven to 325 F. Thoroughly grease 8×4″ loaf pan or a 6×6″ square baking pan, or line it with parchment paper. Chop the dates and pour boiling hot water over them. Let soak for about 10 minutes.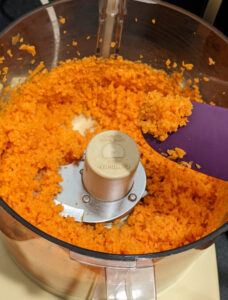 Wash the sweet potato and cut into chunks. No need to peel it. Put the chunks into the bowl of a food processor and pulse repeatedly until minced (think sweet potato meal, but not sweet potato puree!). Drain the dates and add them to the potato. Pulse a few times to help cool the dates down. Add the eggs, nut butter, and extracts and blend until smooth. Add all remaining ingredients, except chocolate chips, and pulse until well combined.
Remove the blade from the food processor bowl, or transfer batter to another bowl, and stir in the chocolate chips. If you like, you can save a few of them to decorate the top of the brownies. Or not. Transfer the batter to your prepared pan and spread into an even layer. Press in any reserved chocolate chips, and bake for 25 minutes.
Allow the brownies to cool in the pan for 10 minutes to set, and then run a knife or rigid spatula around the edge of the pan. Flip the brownies out, or use the edges of the parchment to lift them out, and cut into 6 pieces. These wholesome brownies are great warm out of the oven, and they're even better the next day when they've gotten nice and fudgy.
Once they're cooled to room temp, store them in an airtight container on the counter. If you wind up keeping them more than a couple days, store in the fridge.
Notes on scaling up: I find these always turn out better as a single small batch, because they're more uniformly cooked. However, if you wish to double this recipe, use an 7×11 inch pan or an 8 inch square pan. You may have to transfer the batter to a separate bowl to stir in the chocolate chips, unless your food processor is very large. Bake for an additional 3-4 minutes.