These mushrooms with black garlic come together in little more than a half hour and have a wonderfully complex flavor profile. Chewy umami and fresh greens, tied together with tangy black garlic and vinegar. Plus cheese and cubes of toast. Did I mention how delicious? How easy? So just go buy a huge pile of mushrooms and make it ASAP. As a quick warning, it does look a little insubstantial when it's finished, but you'll discover upon eating that it's actually plenty filling. Serve for dinner or brunch.
Adapted slightly from Smitten Kitchen (where it was adapted slightly from the Seven Spoons Cookbook).
Ingredients
Serves 2-3 as a main dish–would also make a great side.
About 1 lb assorted mushrooms (I used about equal proportions shiitake, button, pink oyster, and cremini)
1 small bunch of kale or chard
1 lobe of a shallot
4-5 cloves black garlic (about 10 grams)
1 1/2 tbsp salted butter
1 1/2 tbsp olive oil
2 slices of sourdough or crusty french bread
1 tbsp apple cider vinegar
1/4 tsp salt (1/2 if using unsalted butter)
3/4 tsp red pepper flakes or to taste
Freshly ground black pepper
4-5 oz cheese good for melting (I used Beechers)
Wash and trim the mushrooms. Towel mostly dry or allow to air dry. Cut into thick slices or tear into bite-sized pieces. Peel and mince the shallot and black garlic (keep separate). Wash the greens, remove the tougher parts of the stems, and tear into bite sized pieces.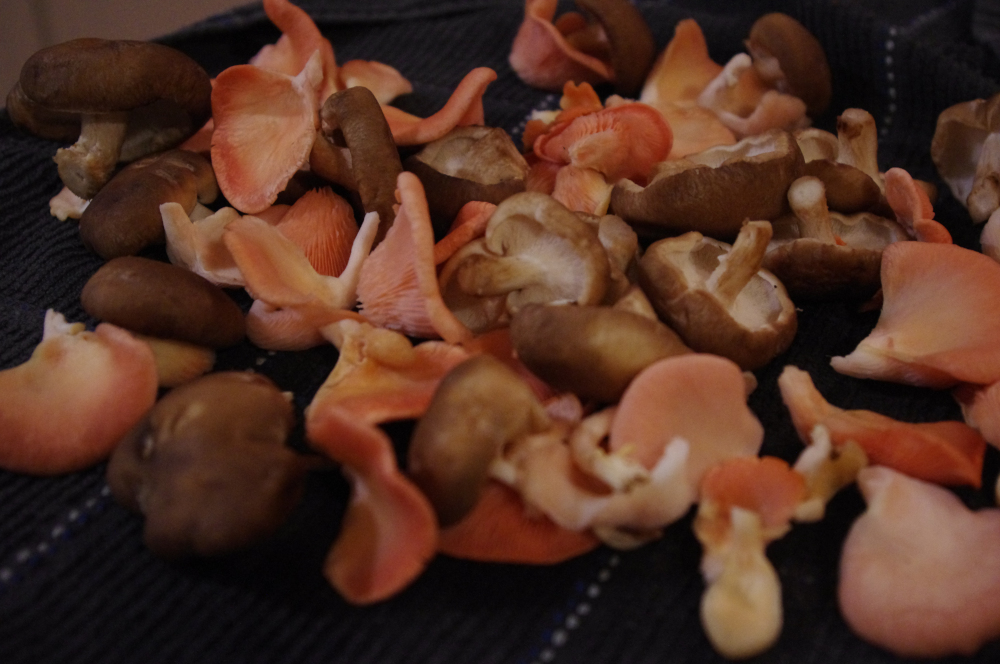 In a large pan, heat the butter and 1 tbsp of the olive oil. When it's hot, add the mushrooms, all at once. Cook, stirring occasionally, until the mushrooms have shrunk to half their size and there is little to no water at the bottom of the pan (around 8 minutes). Meanwhile toast the bread. and slice the cheese (bite-sized pieces for softer cheeses, and thin slices for harder ones).
Add the shallot to the pan, and stir for about a minute. Add the vinegar, red pepper, black pepper, and salt and stir well. Scrape the mushrooms to the edges of the pan, add the remaining half a tablespoon of oil into the center, and add the kale and black garlic. Stir thoroughly, making sure to break up any clumps of garlic. Cook for a few more minutes, stirring frequently, until the greens are bright and softened.
Tear the bread into bite sized pieces and distribute the chunks evenly over the mushroom mixture. Layer on the cheese, again, more or less evenly distributed over the rest. Reduce pan to medium low and cover the pan (you can use foil if it doesn't have a lid). Cook until the cheese has melted and then serve.
My partner and I followed Deb Perelman's lead and ate this straight from the pan with a fork, but it would also be very good plated up with a poached egg on top, if you wanna get all fancy.