I've tried many a recipe for keto and low-carb waffles off the internet and they've been…well…okay, I guess. But they all share certain characteristics which I find sub-optimal. They were invariably eggy, and either floppy and spongy, or so dry and dense that they sucked all moisture out of your mouth. And maybe it was my imagination, but somehow, sometimes, both at once…? So, after several of these lackluster experiences, I set out to make my own low-carb waffles. The result are these beauties. They're fluffy and hold their shape without being dry.
Note that you will need an electric mixer (hand or stand is fine) and a food processor.
Ingredients
Makes about a dozen mini-waffles, or (probably) half as many large ones.
About 1 cup raw pecans (to make 1 cup pecan meal)
3 tbsp coconut flour
2 tbsp oat fiber
1 tbsp wheat gluten
2 tbsp 1-to-1 sugar substitute of choice
1/2 tsp baking powder
1/2 tsp baking soda
1/2 tsp cinnamon
1/2 cup unsweetened almond milk OR 1/4 cup heavy cream and 1/4 cup + 2 tbsp water (the cream option results in a slightly crispier exterior)
1 tsp vanilla
1/2 tsp almond extract
3 eggs
Pinch cream of tartar
1 tbsp butter or coconut oil
To make the pecan meal, pulse the pecans in a food processor until they're a crumbly, sandy texture. If you find yourself making these often, you can do up several cups of pecans ahead and freeze in an airtight container until you're ready to make waffles. Just make sure you thaw the pecan meal in the fridge overnight, or it'll be very difficult to work with.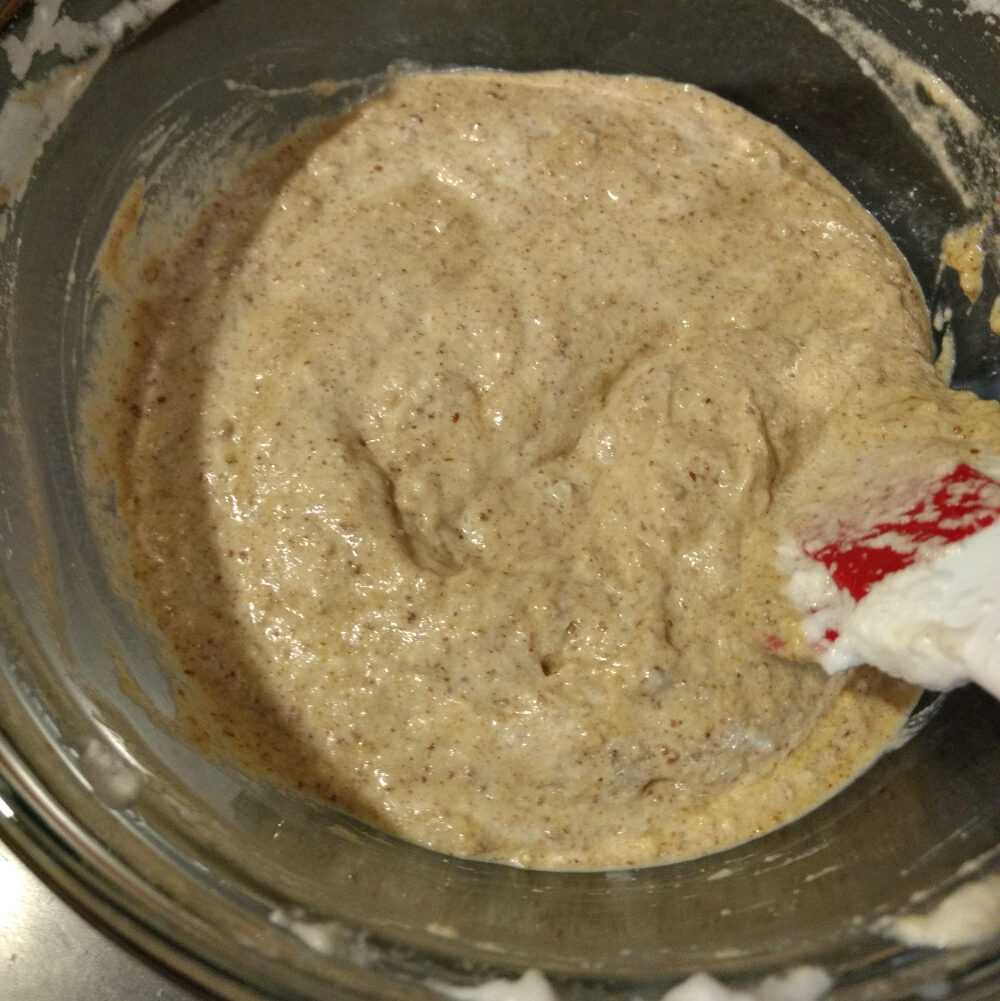 In a medium bowl, whisk together 1 cup pecan meal and other dry ingredients (except cream of tartar). Add the almond milk/water and cream and the extracts. Separate the eggs, placing the whites into a second medium bowl, and the yolks into the pecan mixture. Whisk the pecan mixture thoroughly and set aside.
Add a pinch of cream of tartar to the bowl with the egg whites and use an electric mixer to beat at high speed until stiff peaks form. Fold the egg whites into pecan mixture until there are no more large lumps/pockets of egg white. It is ok if the mixture is a little streaky still, that is better than over mixing and knocking out all the air.
Melt the butter or coconut oil. Preheat your waffle maker and then lightly brush with butter/oil. Fill the waffle maker about 1/2 or 2/3 of the way with batter and close. Cook until nicely browned (a little longer than just "done" if you want them a lil' bit crispy). Repeat with remain batter and serve the waffles with butter and/or keto-friendly syrup.