These red lentil fritters have been a favorite dinner in my household this year. Nice and crunchy outside and moist inside, they have all the goodness of lentils combined with crispy fried onion reminiscent of bhajis. Liberally apply a lemon-yogurt sauce (which is good enough all by itself to consume in mass quantities), and you've got a phenomenal meal.
Note the lentils need to soak ahead of time for 1 hour.
Adapted from Bon Appétit.
Ingredients
Makes about a dozen small fritters
1 1/2 cups red lentils (do not substitute other lentils)
1 small zucchini
1/2 medium yellow onion
3/4 cup fresh parsley leaves and stems (optional)
1 large egg
3/4 tsp cayenne pepper
1 tsp turmeric
1/2 tsp + 1/2 tsp salt
1 cup plain yogurt
2 tbsp lemon juice (about 1 small lemon)
Prep the ingredients
Rinse the lentils and soak in cold water for 1 hour. About halfway through the soaking, start prepping the vegetables.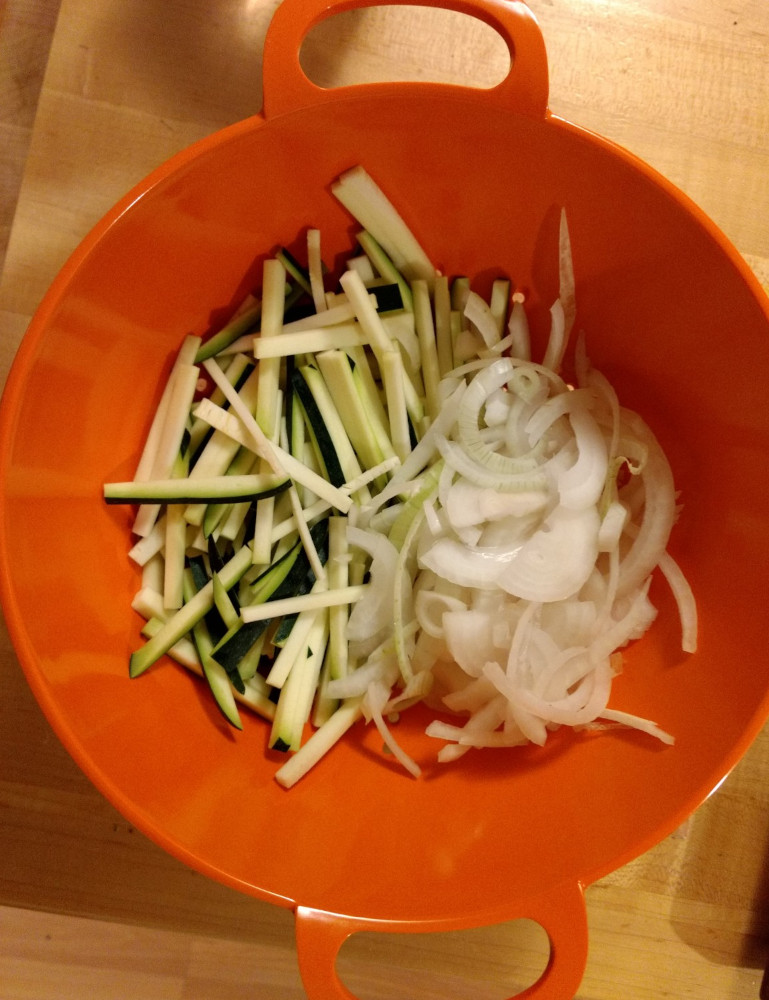 Wash the zucchini and trim off the ends. Cut into matchsticks 2-3 inches (5-7 cm) long. Peel and trim the top off of the onion half. Thinly slice, discarding the end. In a colander, toss the zucchini and onion with 1/2 tsp salt and let sit in the sink or a deep plate for about 20 minutes to allow the salt to draw out excess moisture.
Make the batter and sauce
Wash and coarsely chop the parsley. Drain the lentils using a sieve and transfer to the bowl of a food processor (you may have to do them in batches). Add the turmeric and cayenne and pulse until mostly, but not completely smooth. In a large mixing bowl, combine the lentil mixture, egg, and all the vegetables and stir until well combined.
In a small bowl, combine yogurt, lemon juice, and remaining salt and stir well.
Fry!
Heat about a 1/2 inch (1-2 cm) of vegetable oil in a deep pan over medium-high heat. Line a plate or baking sheet with paper towels. Scoop up a small blob of the fritter mixture and shape it into a sort of puck between the palms of your hands (about 3 inches (8 cm) across).
When oil nice and hot (use a drop of water to test, or look for shimmery ripples, but do not allow to smoke), use a slotted spoon to add the fritter to the oil. Add more fritters in a single layer until you run out of room. Cook until well browned before flipping. This will take a while, so keep checking the color underneath, be patient and resist the urge to flip too soon! Once brown on the second side side (this will take a little less time since it's already hot), remove from pan and set it aside on the paper towels. Repeat frying process with remaining fritter mixture.
Serve while still warm with the yogurt dipping sauce.
NOTES: If you're unsure about what size to make them, err towards smaller rather than larger to avoid an overly dense center. When frying, golden brown is not brown enough–you don't want them burned, but you want them truly browned for optimum crispiness.
The fritters are definitely best fresh, but if you do try to reheat them I recommend using an air fryer or oven until just warmed through. The yogurt sauce, however, can easily be made ahead and stored in the fridge.