If there's one thing I like, it's variety. I'm not keen on eating the same thing all the time, and I like trying new recipes. I'm always on the lookout for interesting dishes and flavors to play with, so when I came across a recipe for beans in the style of mapo tofu, I was intrigued. Of course I don't eat meat, so I tweaked it to create these vegan mapo beans! The finished product has a spicy, complex, savory flavor and a satisfying texture boost from the large white beans used in place of silken tofu.
Note that you must cook the beans from dry ahead of time.
Adapted from Serious Eats.
Ingredients
Serves 3
1 1/4 cup large white beans, dry (should be labelled great northern, white kidney, cannellini, or baby lima beans)
1 Tbsp coconut oil
2/3 cup meatless grounds
A few drops to 1/2 tsp smoke seasoning (depending on the brand, it may be highly concentrated, or not so much)
4 Tbsp vegetable oil
1 1/2 Tbsp doubanjiang (Chinese fermented broad bean chili paste, may also be labelled as toban djan, and can be found at an Asian grocery or online–do not omit this)
2 tsp ground Chinese chilies (Er Jing Tiao chilies, again online or Asian grocery–in a pinch sub 3/4 tsp cayenne pepper)
4-5 garlic cloves, depending on size
1.5-inch chunk of fresh ginger (about 3 tsp minced)
5-6 scallions or about 16 ramps (about 3 oz)
1 1/2 tsp ground Sichuan peppercorns, divided
1 1/4 cups water
Prep
Cook the beans ahead of time, either on the stove top according to the instructions on the package, or in an instant pot as follows: cover the beans with a couple inches of water and cook on high pressure for  25 minutes. Natural release for 5 minutes, and then release the remaining pressure using the valve.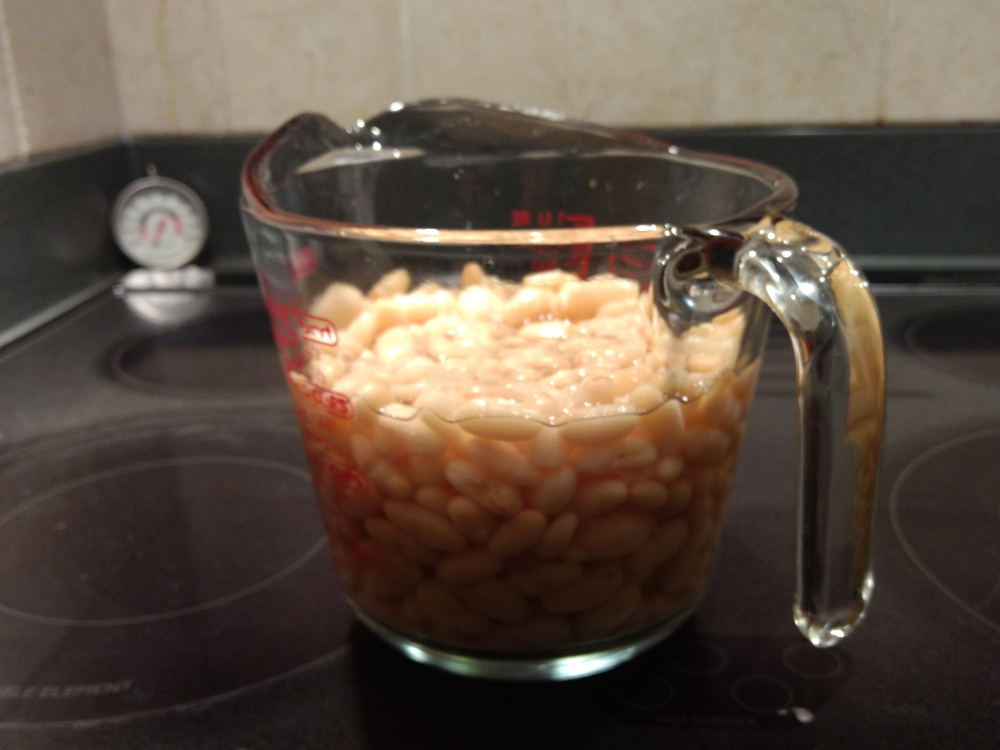 Use a ladle to scoop 1 cup of the bean liquid and beans (roughly 50/50) into a 4-cup measure. Add 2 more cups of mostly beans and as much liquid as it takes to fill in the air space (to the 3-cup line). This should use most/all of the beans, and the remaining liquid can be discarded. Set aside the 4-cup measure for now.
Peel and mince the ginger and garlic. Trim scallions. Separate the hollow green parts of the scallions and coarsely chop them. Thinly slice the remaining white, solid part of scallions into a separate pile.
Get a small heat proof bowl and a ramekin (or smaller heatproof bowl) and set both next to the stove for later.
Cooking
In a large pot or wok, heat the coconut oil over medium-high heat. Add the meatless grounds, and brown, stirring and scraping the bottom of the pot often. Add the smoke seasoning and stir well. Scrape all of the grounds out into the small bowl and set aside. Remove pot from heat for a moment to cool down and reduce heat to medium.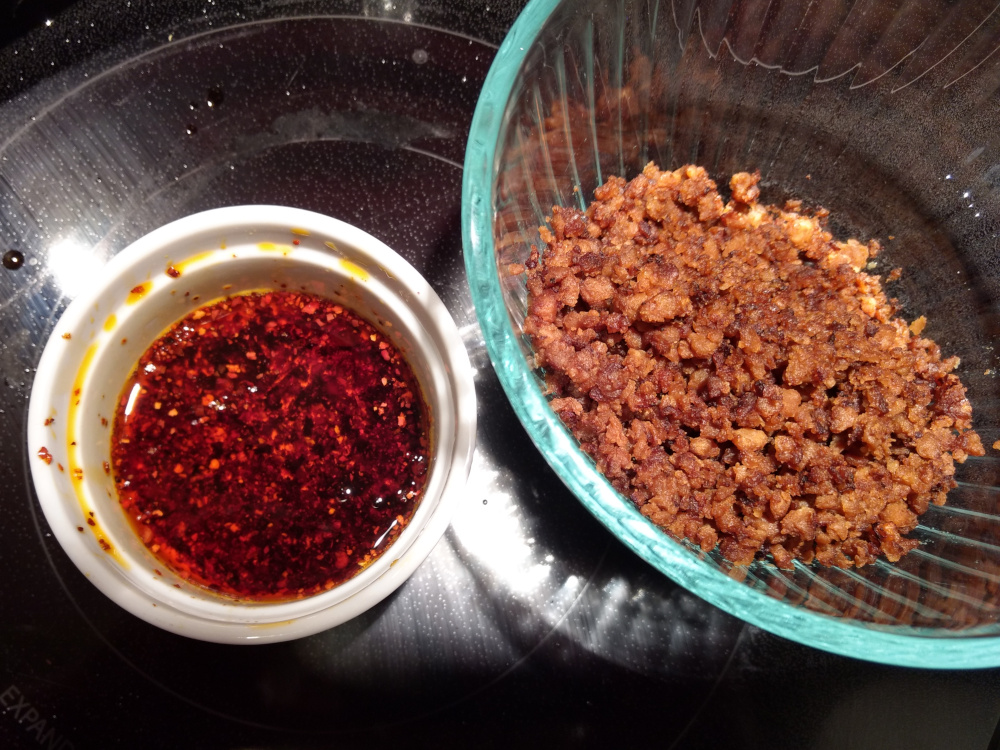 Add the vegetable oil to the pot and put back on the heat. Scrape the bottom pot well to loosen any browned on bits, and heat oil until it looks shimmery. Add dobanjiang and stir constantly for about 30 seconds or until fragrant. Add the Chinese chilies and continue stirring constantly for another 30 seconds, or until the oil is all dark red. Pour about 2/3 of this oil mixture into the ramekin and set aside.
Add the ginger, garlic, 1/2 tsp Sichuan peppercorn, and the white part of the scallions/ramps to the pot and cook for about 30 seconds or until nice and fragrant. Add 1 1/2 cups water and the beans you measured out earlier.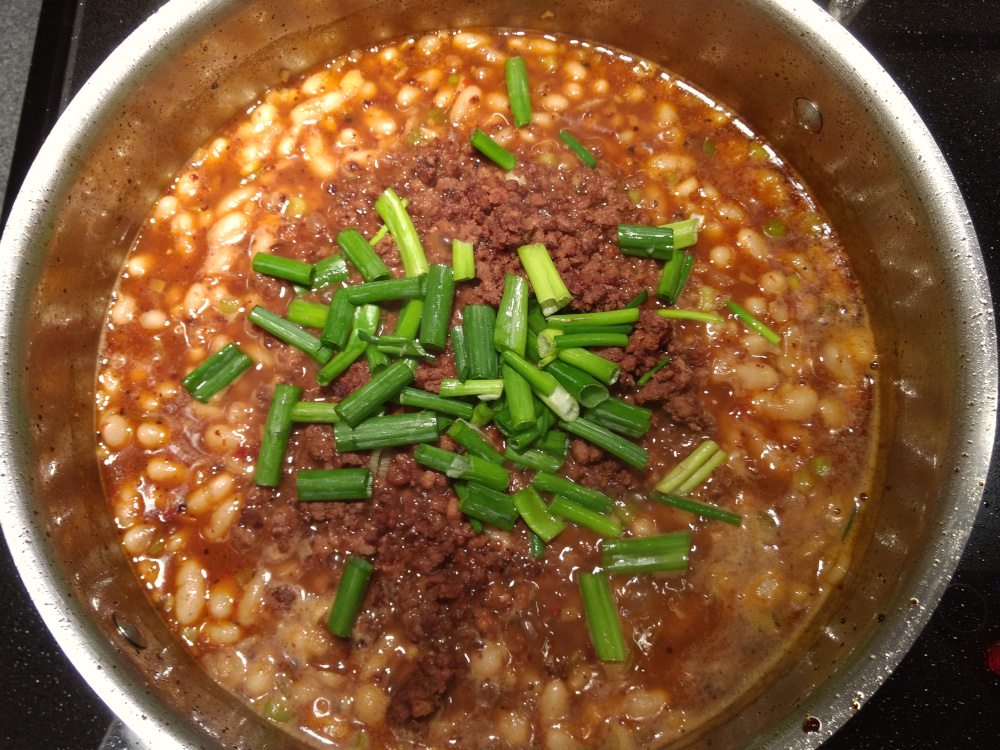 Bring to a simmer and cook for 3-5 minutes until everything is hot and the liquid has thickened slightly. Add the green part of the scallions/ramps and the meatless grounds, stir well, and cook for another 30 seconds or so until the greens are just softened. Note that it will continue to thicken as it cools.
Ladle stew into bowls, and if desired, sprinkle with some of the reserved ground peppercorns and chili oil. Serve vegan mapo beans with some rice or a vegetable dish on the side.