There are many, many kinds of curry. This one is very simple and makes a great weeknight dinner. You need a few core ingredients, and the rest can be decided based on what you have in your cupboard. Thus, cupboard curry! I'm especially fond of using root vegetables, peas, greens, and cauliflower.
Ingredients
Serves 3-4.
1 tbsp coconut oil
1 15 oz can of coconut milk (regular or light is fine, but don't use coconut cream)
1.5-2 tbsp curry powder
1-1.5 tsp salt
1-2 bay leaves
1 medium onion, diced (preferably white or yellow)
3-4 cups chopped vegetables of choice, for example:

cauliflower and/or broccoli, diced
carrots, sliced
yams or potatoes, diced
frozen peas
spinach
kale, torn into large pieces and stemmed
bell peppers, chopped
canned tomatoes, drained or fresh tomatoes, chopped and seeds removed
eggplant, diced
okra, sliced

About a cup of protein of choice (optional), for example:

cooked or canned chickpeas, drained
extra-firm or firm tofu, drained and cubed
chicken breast, precooked and chopped

Parsley to garnish (optional)
Once you've washed and chopped the onion and your chosen ingredients, heat a wide pot or a deep pan over medium heat. Melt the coconut oil in the pan and then add the onion, stirring now and again, until it is just becoming translucent.
If using peas or leafy greens, set these aside for later. Add the hardest vegetables you're using (e.g carrots and potatoes) and spices to the pan. Use the smaller measurement of salt and curry powder. Saute for a couple more minutes. Add the medium-firm vegetables (e.g. yams, cauliflower, eggplant, peppers), protein of choice, and canned tomatoes, if using and saute a few more minutes.
Add the coconut milk. Fill the empty can halfway with water and add that to pan as well. Add the peas, if using. Stir well and cover pan. Bring to simmering and cook for about 15 minutes.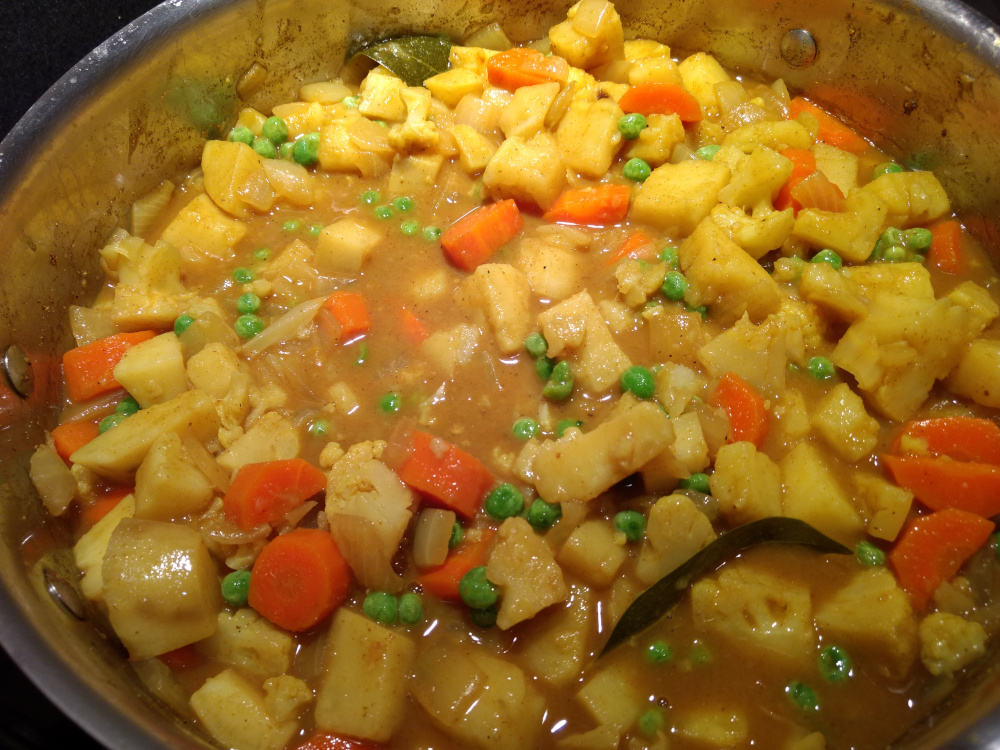 Taste the sauce and add the additional salt and curry, if desired. If the sauce is thicker than you would like, then add a little extra water. If it's thinner than you would like, uncover and continue simmering, stirring frequently. Either way, continue cooking until the hardest vegetables are soft enough to be cut in half with a spoon. If using leafy greens, add them now and cook for 1-2 minutes. Otherwise, remove pot from heat.
Serve the delicious cupboard curry hot and garnish with parsley, if desired. Also excellent served over rice or with naan!